The Top 10 Snowboard Helmets for 2017
Dennis Rettke

The winter season is here and the mountain enthusiasts out there are getting excited to hit the powder and cruise the slopes. You know the drill, head to the store room, garage, or bedroom, wherever your gear is, check it out, clean it off and throw it into the car. But wait, what about the helmet? Helmet, you say. How unimportant is that? Well, if you're a superhuman boarder and never have a fall, then great for you!


Everyone knows, whether they admit it or not, that once in a while you may have a tumble here and there, or perhaps have a closer interaction with a friendly tree than expected. If such an event happens, you'll want to make sure that your helmet will be there to soften the blow. Even if you never have any incidents, having a helmet to keep your head warm is just as much a benefit. Over time, especially in cold conditions, helmets can weaken. Just as your snowboard and clothing suffer wear and tear over time, so your helmet will too. Except with a helmet, it's your head that's on the line, not just your pride.


It's not just safety that is a factor for thinking about upgrading your helmet. New technology every year presents us with ever-improved products with better features, materials and designs, to make your time on the slopes safer and simply more fun. Over the last decade or two, helmets have become lighter and stronger with a closer fit to the head. The introduction of Bluetooth capability has meant that having your favorite tunes pumping into your ears as you ride down the mountain is a piece of cake. So if you're in the market for a new helmet, read on and make your list before you hit the snow, literally.

CHOOSING THE RIGHT HELMET

Maybe you want only basic protection as you know you won't be venturing beyond the park, or because you're simply an awesome rider. Or you're thinking that maybe those steep drop-offs will be less frightening knowing that your noggin is fully protected. Then again, design and Bluetooth capability may be more important than any of those. Choosing the right helmet will depend on the level of comfort and protection you will need, depending on your mission on the mountain. While having a helmet that protects you all over, going for all out protection sometimes means a decrease in comfort. Your budget also comes into play, with as much variety in price as there are in designs.

Choosing the Right Fit


In reality there is not much difference between injection molded and hardshell helmets when it comes to functionality. They both adequately protect your head in all conditions. Certifications ensure that whatever helmet you buy has been tested and approved, so it's not absolutely necessary to purchase the most expensive gear in order to guarantee sufficient protection. The main difference is the level of comfort each provides. This is a personal decision, one that would be weighed up between the amount of time you spend on the mountain and how high boarding is on your lifestyle pecking order.


One of the more important aspects when selecting your helmet is how well it fits and how compatible they are with the goggles you wear. Every head is different and if you go to the store and start trying on different helmets, you'll soon find that the level of comfort is very individual. In your case, you might find the more expensive, lightweight one may end up not being as comfortable as the bottom of the range. It is also important to ensure your helmet and goggles complement each other to provide a secure fit. The goggles need to fit snug against the rim of the helmet, without being pushed down too far or allowing too much space in between.


When trying the helmet on, check to see if it wobbles from side to side. This will indicate whether or not it is too loose. Excess pressure anywhere on the head will tell you if the helmet is too tight. When it comes to adjusting the size, there are a few things you can do. Often, helmets will come with an adjustable ratchet or wheel so you can tighten and loosen the head fit at a touch. They can also provide a vertical adjustment to fine tune the gap between goggles and rim. You can also purchase additional pads to add thickness to the interior. Not only will it provide extra comfort but it can also be great for riders who like to wear beanies and for kids so that you can remove the pads as they grow without sacrificing safety.



Additional accessories are available to enhance the rider experience. One of the main items you can customize are air vents. Because helmets are a safety device that fit close to your head, they are often constructed to protect all parts of your head, including ears. If you're pulling 360's and racing up and down the mountain, or it's simply not that cold, this can result in discomfort from the excessive warmth generated by full head protection. Therefore, most helmets are designed with this in mind and provide vents to allow for movement of air. Some helmets are made with removable plugs, meaning you have to take the helmet off to adjust the air flow. More expensive varieties tend to opt for the vents where you simply push a lever to adjust the level of air allowed inside.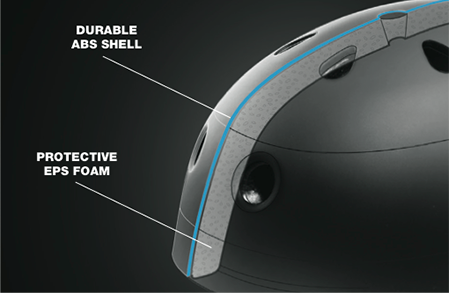 ​​Another addition to the latest helmets are the various audio functions that you can play with. Love to hear your favorite tunes when cruising down the slope? Then Bluetooth capability might be a very important consideration for the musically-oriented. Built in speakers allow the rider to connect their phone up to listen to their music. An additional feature involves being able to communicate with each other, like divers' helmets. This is especially handy if you're hanging out with your buddies, whether in the park or in the wilderness.  


With all this knowledge about construction, material types and accessories you can add, it's time to get into the top ten helmets for 2017.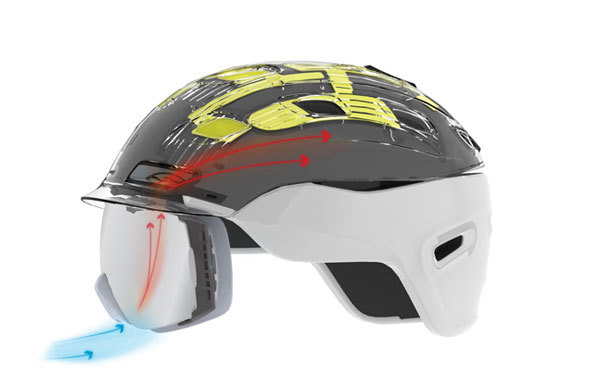 TOP TEN HELMETS FOR 2017


​

1. Smith Optics Arrival Snowboard Helmet


Manufacturer:                  Smith                                   
Type:                                  Injection mold half shell
Adjustable vents:             Yes        
Audio/Bluetooth:             Sold Separately              
Price range:                       $$$


Pros:                                                                               
Lightweight technology                 

Excellent quality at a reasonable price

Adjustable vents


Comfortable fleece lining

Lifetime limited warranty


Cons: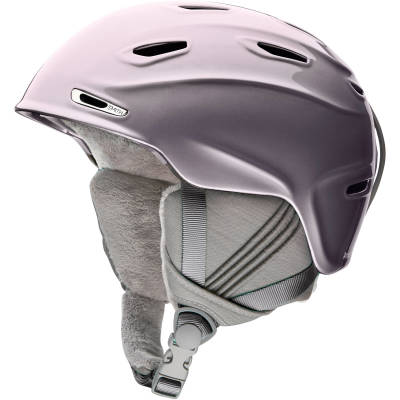 ​​
Don't be fooled by the price on this baby. It is simply all the helmet you need without breaking the bank. Stroll in to your local store or online and just buy it already. The injection mold half shell construction makes this super light, and super strong with an EPS liner that provides the highest impact resistance. Functional, minimal design enhances the appeal, while the fleece inner lining makes you feel warm and comfortable. Things getting too hot under the hood? The 14 adjustable vents ought to sort that out, with the added bonus in that they can be adjusted while wearing gloves. The fitting is also adjustable utilizing a dial fit system, so you simply turn the knob to tighten and loosen the helmet. It comes with Smith's SnapFit SL Ear Pads which are made of superior material in the inner section and provide a comfortable seal. They are fully removable should the day be warm and are also machine washable. And while headphones are not included as standard, Smith have made provision for them in order for the tunes to flow by way of a separately sold Outdoor Tech Audio System. This helmet is primarily marketed for women, however is designed in such a way that men will feel comfortable wearing them too. Highly rated by customers, excellent quality and on the lower end of the price scale, make sure you try one of these before making your decision.
​​
2. Smith Camber Snowboard Helmet - Men's

​
Manufacturer:                  Smith                         
Type:                                  Injection mold half shell    
Adjustable vents:             Yes        
Audio/Bluetooth:             Sold Separately        
Price range:                       $$$$


Pros:                                     


Cons: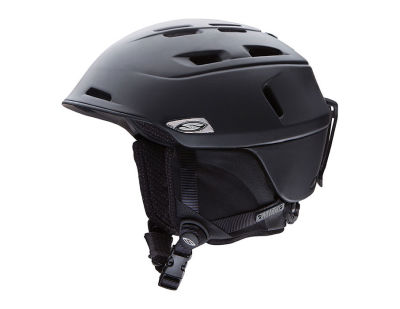 ​​
So you like the Optics Arrival from Smith but would prefer a more masculine design. Then the Camber helmet might be for you. Packing the same super lightweight injection mold technology, and available in a multitude of colors, this one is also hard to beat when it comes to functionality and price. It is constructed with 20 adjustable air vents for a spring day that, like the Optics Arrival, can also be adjusted on the run without taking your gloves off. The Smith x Boa Fit System ensures your helmet will stay secure even while on the run, with the ratcheted wheel providing easy tightening and loosening with one hand. As opposed to the warm, fluffy fleece of the top model, Cambers come with X-Static Performance lining, which is made up of high quality lightweight material. Regarding the ear pads, there have been some complaints of them being a bit uncomfortable and even coming loose, and the reality is they are not as completely removable as the Optic Arrivals'. This is the only gripe with this exceptional quality helmet. Those eager to know about audio capability will be pleased to know that the Skullcandy Drop-In Audio system is available, however it is sold separately.
​​
3. Giro Era MIPA Snowboard Helmet - Women's

​
Manufacturer:                  Giro                         
Type:                                  Injection mold half shell    
Adjustable vents:             Yes        
Audio/Bluetooth:             Sold Separately        
Price range:                       $$$$


Pros:                                     

Lightweight    

MIPS technology for superior safety

Good compatibility with goggles

One handed adjustability

Cons: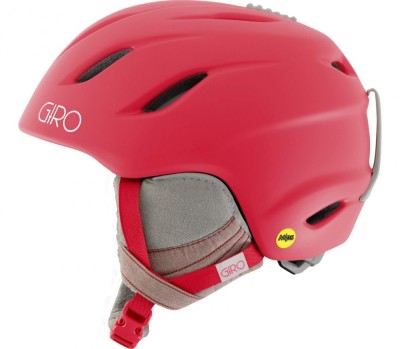 ​​
These ladies helmets are a solid entry into our top ten, particularly for those wanting the added safety of Giro's MIPS system. Essentially, MIPS is made up of three components, the interior foam liner, the low friction liner and an elastic polymer attachment system between them. In the event of an angled impact, this attachment system stretches to allow the foam liner to rotate independently around your head, reducing rotational forces. This is a real crowd pleaser, especially for those looking to get out into some powder over difficult terrain. The ventilation system is reportedly even easier to use than the Smith helmets. Sizing can also be tuned with one hand by means of a turning dial, should you require some tightening or loosening half way down the slope. Additionally, an adjustment is also provided for vertical alignment with the goggles at the front. The ear pads are removable and made from plush fabric for that extra comfort and warmth. They are compatible with Aftermarket Giro Audio Systems by Outdoor Tech, providing an option for those wanting to rock out on the slopes. A sturdy, good quality helmet with a solid safety system, these are an excellent mid-range option at a reasonable price.
​​
4. K2 Phase Pro Snowboard Helmet

​
Manufacturer:                  K2 
Type:                                  Hard shell    
Adjustable vents:             Yes        
Audio/Bluetooth:             Included audio capability, but not Bluetooth
Price range:                       $$$


Pros:                                     

Fully removable liner    

Audio capability included

Sturdy

One handed vent and size adjustability

Cons:

Not wireless
Slightly heavy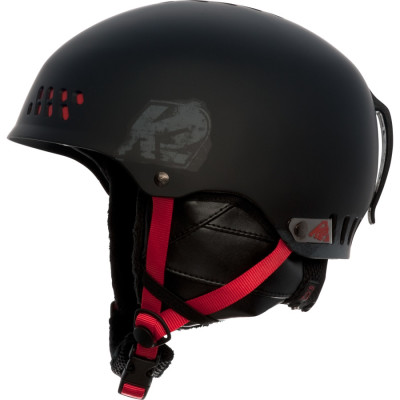 Finally, a helmet that includes audio capability in the box. Its level 3 baseline audio system incorporates inbuilt headphones that connect easily to your cell phone, enabling your tunes to ring in your ears as you slip down the park. Don't get too excited, though because they're not wireless and having a cord exposed to the cold and gnarly turns doesn't illicit a high degree of confidence in their durability. The speakers are built into the ear pads and can also be removable should you wish not to have them. But it's not all about the sound. The Phase Pro is a well-built helmet, with hard shell construction and a full-wrap inner liner. The liner is a highlight of this piece of gear, as it is one piece with no gaps, ensuring a snug and comfortable fit. Additionally, it is entirely removable and therefore washable, so you can say goodbye to that interesting helmet funk (if you wish). When it comes to ventilation, the Active Matrix Venting is another helmet in our line up to feature on the go adjustability. With one touch, you can control the vents on the go and ensure your comfort all the way down the mountain. Because it is a hard shell helmet, it's heavier than the injection mold helmets we've already covered. However, with a rider like Sean Pettit sporting it, along with the baseline audio and full-wrap liner, you're looking at a very high quality helmet at a reasonable price.​

​
5. Anon Rodan Snowboard Helmet

​
Manufacturer:                  Anon 
Type:                                  Injection mold half shell    
Adjustable vents:             No   
Audio/Bluetooth:             Compatible with Bluetooth audio (not included)
Price range:                       $$$$


Pros:                                     

Super lightweight    
Simple design that's easy to use
Magnetic helmet buckle
Unique design for goggle fit

Cons:

Vents not adjustable
Issues with Velcro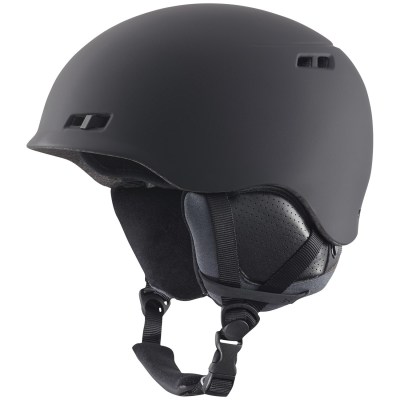 Are you looking for a super lightweight and no nonsense helmet that works? Then this is the one for you. One of the lightest helmets on the market, the Anon Rodan is only 385g and is constructed with an EPS injected liner, fused on to a polycarbonate shell. Anon have made the effort to make this helmet as comfortable and easy to use as possible, including giving you the ability to fully remove the liner and ear pads while still keeping you safe. It also comes with a BOA fit system that, like a lot of helmets now, is able to be adjusted single handedly by means of a wheel system. One of the unique technologies that are standard on this helmet is the Fidlock magnetic helmet buckle, allowing you to open and close your helmet with one hand, even with gloves on. Bluetooth functionality is present, with the ear pads built to accommodate a Skullcandy ASFX audio system. Venting is perhaps where it lacks when compared with most of the other helmets in our review, as they're not adjustable which may be an issue for those who feel the weather more than most. All in all, it's been made for safety and fun on the run. With the simplistic but quality design, you can be focusing on the slope rather than your gear.

​
6. Traverse Dirus 2-in-1 Convertible Helmet

​
Manufacturer:                  Traverse
Type:                                  Hard shell exterior with removable EPS liner    
Adjustable vents:             No   
Audio/Bluetooth:             No
Price range:                       $


Pros:                                     

Inexpensive 


Convertible for year-round use

Flexible size adjustment

Clever and comfortable design

Cons: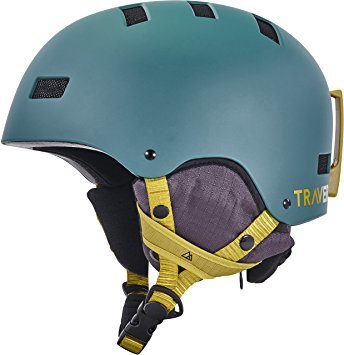 ​If you're on a budget, after good functionality and don't confine your sports to the snow, then the Traverse Dirus is a great choice. Offering the full safety and comfort of any snowboard helmet, the helmet is made with a hard shell construction. The main attraction is that it comes with a fully removable EPS liner that can be changed out with different pads (included) to use with other sports, for example biking and skating. Adjusting the fit is also made easy with the dial that turns to tighten and loosen the helmet as desired. Ear pads are fully removable and made of plush material for warmth and have a pocket to allow for earphones to be inserted in. Passive venting means that although vents are present and have been designed for your comfort on the slopes, they are not adjustable. Also, the inherent simplicity of these helmets may make them less suitable for more technical riders, or those requiring some extra features. But if your wallet is feeling light or you just want the one to cover all your favorite activities, the Dirus is a good value option.
7. Giro Nine Snowboard Helmet - Men's

​
Manufacturer:                  Giro
Type:                                  Injection mold with polycarbonate shell    
Adjustable vents:             Yes
Audio/Bluetooth:             Yes, sold separately
Price range:                       $$$


Pros:                                     

​Available with MIPS technology

Lightweight and durable

Fully adjustable fitting

Highly compatible with most goggles

Cons:

​ Ear pads are not removable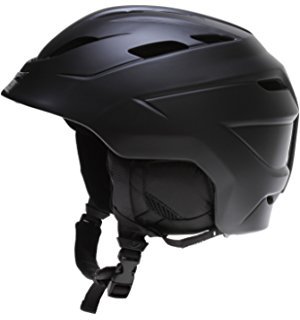 Giro have been making the Nine for a long time and have rightly attracted a large following. This excellent, middle ground helmet has all the features you need when it comes to functionality, comfort and design. Due to the polycarbonate and injection mold construction, it is lightweight and very strong, perfect for those long days up and down the hill. Venting is comprised of the Stack Ventilation with Thermostat control and is easily manipulated for a variety of conditions. For your tunes, the audio capability is there, however the gear has to be bought separately. The In Form Fit System makes the helmet fully adjustable around the head and also vertically so your goggle will fit nice and snug. Lastly, as with other Giro models, this helmet is also available with the MIPS technology for added safety, for an extra cost. Great helmet that is strong and full of features, with designs for every member of the family.
8. Smith Maze Snowboard Helmet - Men's

​
Manufacturer:                  Smith
Type:                                  Injection mold half shell    
Adjustable vents:             No
Audio/Bluetooth:             Yes, sold separately
Price range:                       $$$


Pros:                                     


Cons: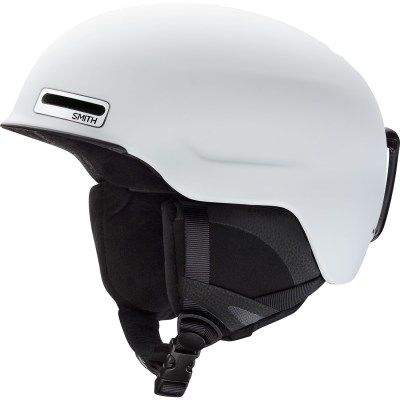 The Maze is a very strong entry from Smith claiming to be the world's lightest commercially available helmet. Manufactured with EPS injection mold, this easy to use, sturdy helmet will perform extremely well in any terrain. The fact that the vents are fixed is a little disappointing, but the ease of use in the rest of the product more than makes up for it. It is super strong as it is and with an extra cost, you can get your hands on one with MIPS technology for that extra protection. The Lifestyle Fit System is self-adjusting by way of an elastic strap making it a breeze to find the perfect fit for you. While the ear pads are completely removable and come with the ability to fit a Skullcandy audio system. If you're on the lookout for a nice looking, extremely lightweight, strong and functional helmet, you will not be disappointed by one of these.
9. Giro Zone MIPS Snowboard Helmet - Men's

​
Manufacturer:                  Giro
Type:                                  Hybrid (Hard shell upper, inner mold lower)   
Adjustable vents:             Yes
Audio/Bluetooth:             Yes, compatible with Outdoor Tech speakers
Price range:                       $$$$$


Pros:                                     


Cons: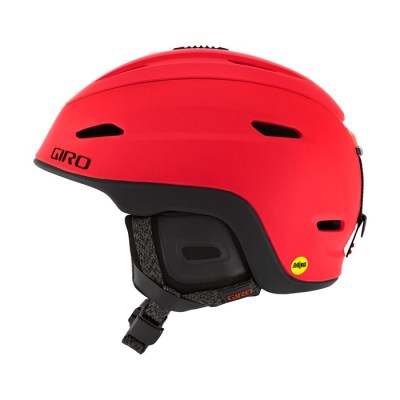 ​If you're tired of being disappointed that your helmet always seems to be missing something, then the Giro Zone is for you. Designed with every feature imaginable, the Zone's excellence begins with its hybrid construction. An upper hard shell exterior combined with an injection molded lower, Giro's engineers were clearly looking to get the optimal performance out of this helmet. Everything is easily adjustable, from the dial-operated In Form fitting to the vents with sliding bar for fine tuning. Some other features in the Zone are the POV camera mounting for your Go-Pro, the Fidlock magnetic buckle closure, and special anti-odor protection with silver to keep your helmet smelling fresh. It wouldn't be complete without MIPS technology, making it even safer than it already is. To top it all off, Bluetooth functionality is present, by way of ear pads that will accommodate the latest and greatest speakers. Prepare to dig deep in your pocket for this gem though, which might put off those that might find the features they want and need in a cheaper product.
10. Demon Phantom Snowboard Helmet with Brainteaser Audio

​
Manufacturer:                  Demon
Type:                                  ABS hard shell and EPS inner liner    
Adjustable vents:             No
Audio/Bluetooth:             Yes, included but not Bluetooth
Price range:                       $$


Pros:                                     

Trendy design
Brainteaser audio pads included
Strong, hard outer shell
Good for the budget concious

Cons:

​ Basic functionality
Fixed venting

​Audio cord feels weak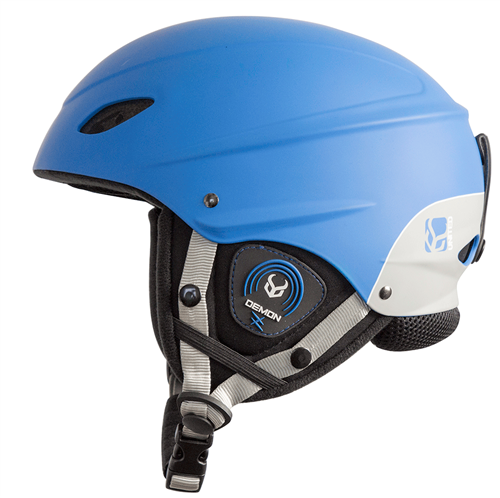 Demon have designed their gear for riders that are concerned with aesthetics and the Phantom is no exception. Trendy and colorful designs await the buyer, and with the added inclusion of audio speakers in the ear pads, boarders who like to stylishly cruise their way down the slope will be pleased. The hard shell exterior is strong and durable and will effectively protect your head, which is the main point in any helmet. Sure it's a little heavier, the vents are fixed and the fitting is not as easily adjustable as other more expensive helmets. But what it lacks in general design it makes up for in the price. One of the most affordable helmets in the stores, the Phantom is an excellent choice for the rider on a budget who still wants to stylishly protect themselves.